Hinge VS Bumble: Which Dating App Is The Right For You?
Everyone can agree that being single is great. You focus on yourself, your needs, desires, and get to know yourself better. But this can't last forever. Now you feel that it is time to look for a person to share all those wonderful things about yourself with. There are a million dating sites out there, so you may find it challenging to find that special somebody.
The choices are numerous regardless of whether you are looking for a hookup or a serious partner. This article is trying to make it easier for you, so there is a review of two best-visited and maximum-upgraded dating sites bumble and hinge .
But between Hinge VS Bumble, which takes the winning position in this total fight? First, you should learn their distinguishing features. Read their detailed reviews before you'll spend your efforts and download anything from the App Market.
What Makes Bumble Different From Other Dating Apps?
Bumble is a platform that's mostly focused on the female. Here, women are empowered to message first and from then, their match has 24 hours to respond. You can notice this dating platform sticks to a classic swipe right or left system. It is not overly complicated but can be a worthy competitor to Hinge or Tinder.
Positives of Bumble
Facebook integration makes it fast and easy to sign up;
The app's complete functionality is available for free;
You are free to use additional communicative features and boost your app by purchasing for weekly or monthly fees;
The Female-first approach is a good chance for girls to make their choice first;
Photo verification for profiles and protection from explicit photos during chat;
The upgraded Bumble App contains Bumble Date, Bumble BFF, and Bumble Bizz.
Negatives of Bumble
Potential matches are only shown by the app; users cannot search for matches themselves;
Though Bumble's simple profiles make for quick viewing, they don't delve into the deeper subject matter unless the member takes the time to update their profile;
Unlike hinge dating , search filters on Bumble are a bit narrowed.
How Is Hinge Different From Other Dating Apps?
Meet a strong competitor to Bumble, well-known in the world of online dating. Hinge is easy to recognize by its clear interface that supports people to discover and develop more friends and dates. Here, you can get in touch with other users easily.
Positives of Hinge
The dating app has a modern design and straightforward usability – features are easy to navigate;
Facebook integration makes it fast and easy to sign up;
Most member profiles thoroughly complete their profile information;
Matchmaking features and sending messages are available for free;
Registration requires mobile number verification to limit fake and scammer profiles.
Negatives of Hinge
Users say that not all members are active;
Numerous fake women profiles that use model stock photos;
Customer support is unresponsive to member complaints about premium subscription billing issues.
Bumble VS Hinge: Signing Up
You shouldn't be a skilled computer user to sign-up for one or another app. Both, Bumble and Hinge can boast easy sign-up processes. To make it even faster these apps support the idea of inputting your data from your account in social media and allow uploading enough photos to put your best face here.
Hinge
This friendly app allows adding more winning pictures of you and information to the user's profile to double your chances. Feel free to categorize the info about your personality into such sections as sexual orientation, gender, admission, religion, hobbies, and even bad habits. If lack of time, simply skip this function and not answer. The app also offers to give 3 short prompts. This can be your life position or just a favorite quote. This is a nice opportunity for other users to start a conversation.
Bumble
Many people think that 6 photos are not enough. Therefore, Bumble allows switching on your Instagram page to take maximum useful pics from there. Here, you don't have to answer any questions just specify your age, sex, location. Go to the Bumble About me section and flow about yourself what you feel you got to. Keep in mind that Bumble has 2 more paid filters.
The Winner
If you choose a hinge or bumble , the last one is easier to sign up for.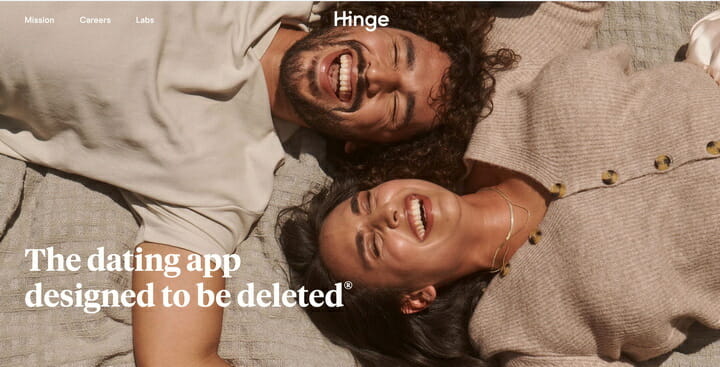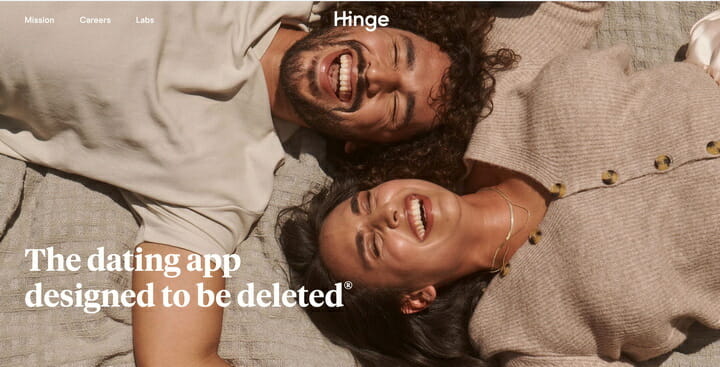 Contacts & Matching Tools
No surprise that these two famous dating apps differ in their matching approach. Their ways of matching are similar in some points but mostly different. If connect to Bumble, do everything as you do on the Tinder profile match. While Hinge offers more opportunities to find love.
Hinge
Believe it or not, but connecting to Hinge you should forget about enormous swiping left and right. Here, users pay more attention to their profile photos and descriptions. The app supports everyone who is online and active by sending more and more potential partners based on your latest connections and activities. Take your chance and use the 'Most Compatible' communicative instrument. It doubles your expectations to meet the right man or woman and date them in real.
Bumble
As it was previously admitted, Bumble has a very simple structure. Go online and swipe people left until you'll find the right one. Keep in mind that only girls are allowed to initiate contact. Traditionally, the user has 24 hours to answer the invitation. Then, the girl has the same time limit to answer again. The prelude is over and you can chat freely now without time limitations. The good is you can make the first move for platonic, business, and friendship connections.
The Winner
Hinge is more comfortable and clear to use and has no restrictions for communication.
Odds Of Success For Bumble & Hinge
If you have already had online dating experience before you do realize that the success of the activity depends on what you want from the app. Some people think that a good app supports only perfect matches every time they need a new face. Others believe that the app success rate can be measured by the number of second dates.
Comparing what app has the highest success results bumble or hinge , mind that the first one gives about 80% of real dates. Everyone who follows Hinge claims for 90% of dates and more than 70% of people agreed for the second date as well.
The Winner
Hinge gives more chances to find your love and bring it off the monitor into the real world.
Bumble VS Hinge : Pricing
Both platforms initiate free and premium interactions. For a no-cost user, they give limited features, while premium membership can unlock more communicative tools and options. In Hinge, you are called Hinge Preferred, if you upgrade your account for money but follow only one plan subscription. In Bumble, you have a choice to pick one of two upgrades which are called Premium and Boost.
If you wish to join as a premium member on these platforms, you can choose the following payment available. Bumble provides credit card, web, and mobile phone transactions via PayPal. Hinge offers credit card and mobile phone transactions only.
Hinge
This app will suit you the most if you:
Knows what you want
See everyone who likes you in one place
Like getting unlimited likes
You have to pay $ 9.99 per 1 month and $ 6.99 per 3 months of using the app's premium facilities. Hinge premium membership offers unlimited profile views and likes. Therefore, you can view the suitable ones accurately.
Bumble
What to follow, bumble or hinge ? While Hinge has two subscription plans, Bumble offers to invest in one of two upgrades: Boost or Premium. To upgrade your Bumble account will cost you $32.99 per month and $66.99 per 3 months. Bumble Boost will allow you to have unlimited swiping, swipe rewind, visibility boost for 30 min once a week, and five super like each week.
Ease Of Use & App Design
Are you looking for an easy way to chat up potential dates online? Do you like it when the app's layout is user-friendly? It can be depressive when you have finally decided to find a perfect partner online, sign up for a great dating app, and then, no matter how skilled a technician you are, you have no idea what to do because the app's layout is confusing!
Do you realize that whenever you give up you miss a chance to meet your soul mate? Thankfully, this is not the case with these two apps.
Bumble is easy to set up, slightly easier than Hinge, since it requires less information. Browsing through all the potential matches is fairly intuitive in both apps and with Hinge; they do half of the work for you. The layouts and designs are colorful, modern, and fun. You are sure to have a great time using any of them.
The Winner
Both Hinge and Bumble are the winners here. You may use other categories to help you decide as you do not have to be a pro to use those apps.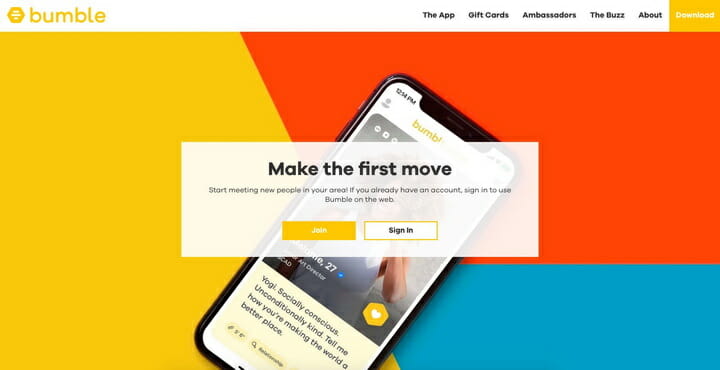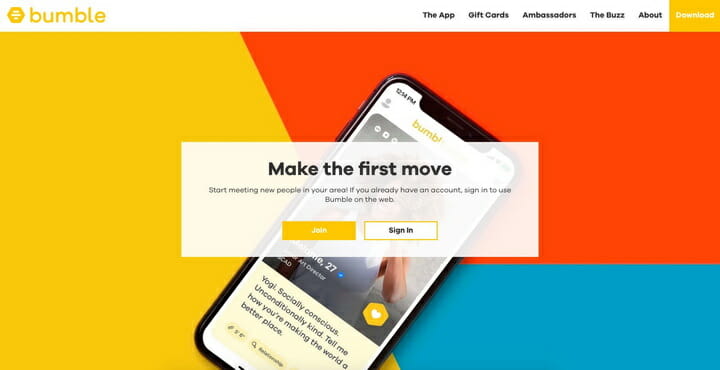 Hinge VS Bumble : Interesting Features
What makes apps differ from each other? They are all essentially a way to meet new people and potentially a relationship. So what do you look for in a dating app? Understandably, that depends on your personal preferences. However, each app has something to offers in the paid plans.
Hinge
Hinge gives you a perfect match feature. They claim that there is a much bigger chance that you will go out on a date with a person who has been dubbed your 'most compatible' than with others.
Go to the We Met category for exchanging numbers and other personal information. Then, Hinge will ask you if you went on a date and if you consider it successful. Your answer, or so-called feedback, is used only to fine-tune the algorithm so that future suggestions may be more to your liking. And, do not worry about the confidentiality of your answers.
Bumble
A BumbleBoost allows you three Backtracks a day if you accidentally swiped in the wrong direction. This paid upgrade also offers:
The Beeline– contact users who already like you for a certain match.
The rematch – reconnect with the expired matches.
Busy Bee – extend the 24-hour time limit.
Super Swipe– use Bumble coins to purchase it, and show your match that you are genuinely interested in them.
The Winner
Bumble – This app offers more interesting features to choose from.
Bumble VS Hinge : Which Is Better For Men?
All gender uses Bumble or Hinge . But the first one is better than others for men looking for a casual hookup, a future date, friendship, or their real love. It's essentially the first destination for people who are new to the dating scene. When it comes to online dating, you ought to swipe where everyone else is swiping if you want to beat the odds.
On the plus side, the profiles on Bumble are short, helping you to make fast choices. The drawback is that a brief dating profile makes it impossible to decide what certain people are looking for. When you don't know anything about others, it can be a bit hard to start chatting.
You may have a mate who met his partner on Bumble. You can find anything from model-quality models to cute "girl-next-door" styles here.
Which Is Better For Women: Hinge Or Bumble ?
Both these apps have a massive database of users. But for women who want a serious relationship might prefer to use Hinge. Everyone knows that this particular app was developed to make user accounts more entertaining than those seen on Bumble apps. You have the option of showing your political views, sexuality, level of alcohol intake, and even the intention to have children in the future. Hinge's prompts make it easy to create more fun profiles.
Go online and see Hinge's new motto. It says "made to be removed," but if you're looking for a possible meaningful relationship match, this is the dating app to use.
The Verdict
So, choosing between bumble vs hinge , which platform gives you more credits to find your love?
When the time comes and you have to choose between these two dating apps, it depends on your first goal. You can hardly find a more favorable place for building up long-term relations than Hing. The app also requires detailed information from every user so that you will know who is who.
Hinge is an app that can make users addicted to its messaging game. The app provides a fun way to open a friendly talk.
Otherwise, if you are confident ladies who aim to make the first bold move and avoid any violating chat, Bumble is a good option. The app doesn't require detailed information; it only takes a minute to sign-up. The platform has become the most popular one for brave women. So, in this competition, each user can decide where they stand.